A trip down the Memory Lane
The History of City Clinic Group
Beginning of City Clinic
The Clinic was founded 1968, the year when Mauritius got its Independence from Great Britain and Port Louis was elevated to the status of a City. Hence the name of CITY CLINIC.
It is a landmark in the Capital City of Port Louis and is  also acknowledged as one of the best equipped private hospitals providing latest medical and surgical facilities. Since 1968 and over the years it has gained a solid reputation as a credible medical institution of International ISO standard as well as an unwavering tradition of caring and service excellence both in Mauritius and in the region.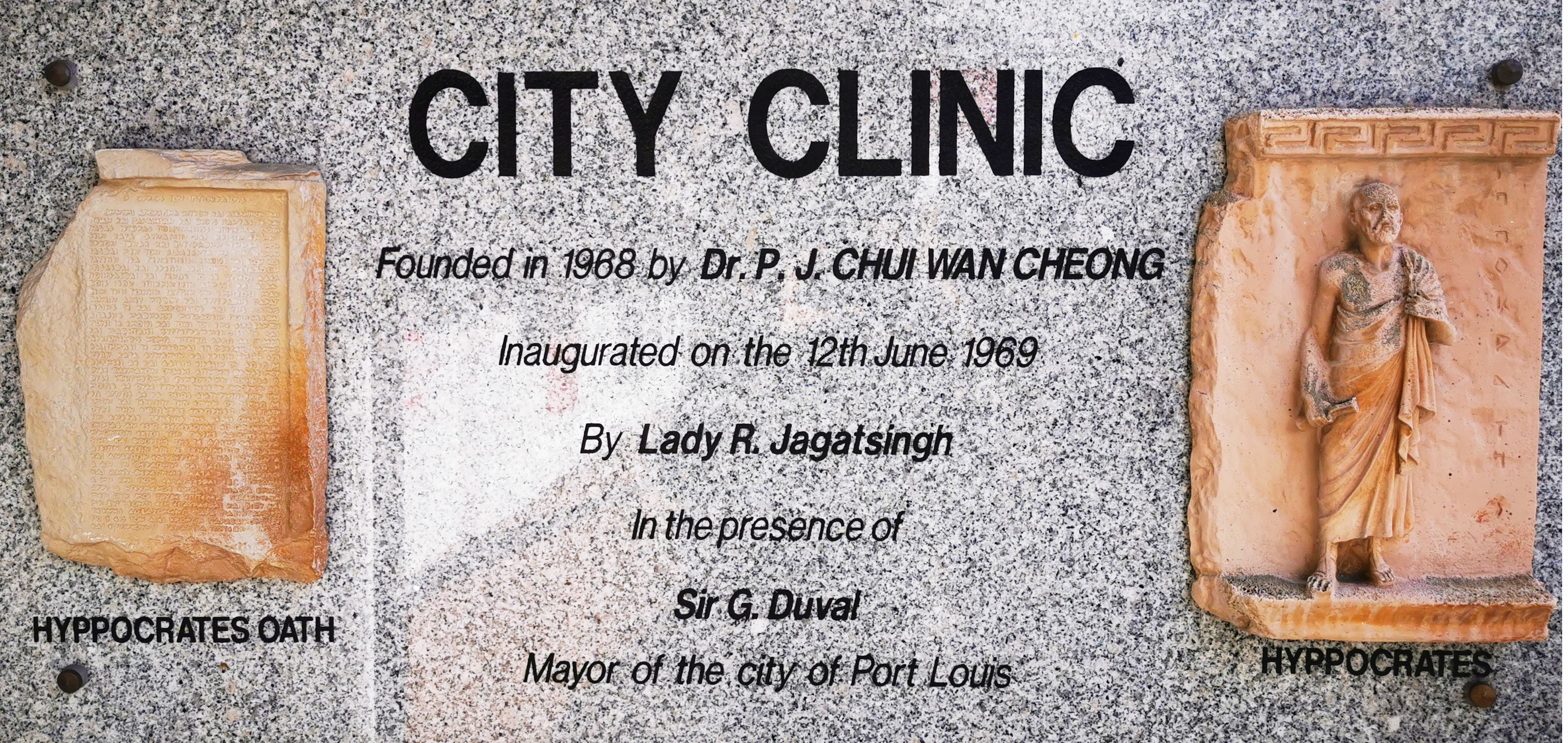 Hi-Tech Medicine and Technology
City Clinic was the first one to introduce Ultrasound Scan as early as 1985 followed by Mammography, Video-Endoscopy, CT & MRI scans, Renal Dialysis, extra-corporeal Lithotripsy (ESWL) Coronary angiography & an I.C.U.
The latest acquisition of a Holmium Laser for the pulverization of renal and uretericstones is worth noting. The latest innovation is the setting up of a fully equipped department of Urology endowed with latest edition of world famous German STORCH Extra-corporeal ESWL for crushing renal stones.
Our List of High-tech Medicine, Technology & Service
As from 1985-2018
1988
Digital video endoscopy
1992
CT Scan – Computerised Tomography
1993
Doppler Echocardiography
1997
MRI – Nuclear Magnetic Imaging
1999
Digital Coronary Angiography
2005
3D Multi – slice CT Scanner
2009
Catherization Laboratory
2018
Urological treatment (ESWL fixed panel lithotripsy)
Patrick Sana College of Health Sciences
2008
It is vital to create a quality supporting nursing and para-medics services to all our hospitals and clinics. So far, our Nursing School is fulfilling its mission with success.
In collaboration with the HRDC, our nursing school is delivering under the National Skills Development Programme (NSDP) a training course on 'National Certificate in Health Care Assisting Level 4'. We are glad to help in the training of the youth of our country and above all to help in fostering skilled supporting services.
The training course is fully recognized by
Mauritius Qualifications Authority (MQA),
Human Resource Development Council (HRDC)
Ministry of Health& Quality of Life
Preserving the Traditional Oriental Medicine
It has always been my belief that Western Medicine and Oriental medicine can work together. Research has confirmed that convergence and combined therapy between the different worlds of medicine will constitute a real break-through in medicine with a view to achieve the ultimate objective leading to "cure from all ailments".
At CITY CLINIC, two major initiatives are well ahead. Firstly, the Oriental Japanese Medicine services like acupuncture, moxibustion, Shiatsu, cupping, oil massage and Thai table massage are dispensed by Dr Hiroki Kinoshita, a Japanese Professor.
Secondly, we shall welcome shortly the setting up of a Traditional Chinese Medicine (TCM) Clinic in City Clinic with the collaboration and expertise of the famous Shanghai University TCM and Yueyang Hospital of Shanghai.
Combined therapy:There are complementarities of two medical worlds. Each has its own advantages and disadvantages.
Certain diseases that cannot be satisfactorily dealt with Western Medicine can be effectively cured by oriental medicine or vice versa.
Researchers have recently found combined therapy between the medical worlds of therapy constitutes a medical break-through – one can speak of a new way of life. Xian Traditional Chinese Medicine University has been able to identify at least 43 diseases that can be effectively managed or cured by combined therapies.
City Clinic Ward Corridor
Old Picture of City Clinic
Old Picture of City Clinic
Old Picture - Surgical Procedure
Lecture by Dr Patrick CWC
CITY CLINIC, of the City Clinic Group
ISO 9001: 2015 Certified
Address:
102 – 106 Sir Edgar Laurent Street, Port Louis
INFORMATION FOR PATIENTS
We provide a 24 hours service.
INFORMATION FOR VISITORS & VISITING HOURS
Visitors are welcome to see their patients during the following visiting hours.
Ward:
Morning – 10.30 - 12.00(only 2 visitors allowed  at a time)
Evening – 18.30 - 20.00(only 2 visitors allowed  at a time)
I.C.U:
Morning – 9.00 - 10.00 (only 1 visitor at a time)
Evening – 16.00 - 17.00 (only 1 visitor at a time)
Maternity Ward:
Morning – 10.30 - 12.00 (only 1 visitor at a time)
Evening – 18.30 - 20.00 (only 1 visitor at a time)